about school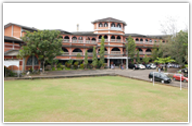 Al Farook Residential Senior Secondary School, one of the pioneer educational institutions in Malabar region located at Farook College, Calicut in a pleasant ambience at the visibility of Farook College with two entrances from southern and northern sides. The school was established by the Management Committee of the renowned Farook College in the year1991,with a vision to proffer quality education.

Al Farook School is affiliated to CBSE, our aim is to develop knowledge, understanding skills and attitudes to empower children to become lifelong learners and productive citizens from all communities within the region and across our diverse and global society. Al Farook School students are prepared to be the leaders in a technologically savvy and globally competitive world. Al Farook School is proud of its diverse mix of students who represent from different parts of the state with various cultures and ethnic background. The school also provides opportunities for the development of technical skills right from the primary class and also gives stress to physical education to build a sound body with a sound mind .The teachers of Al Farook School in their constant endeavor to improve the quality of the school education continuously strive to reach out all students with proper guidance to make them promising citizens for a better tomorrow.
Mission & Vision
The primary goal of Al Farook School is to grow in to a world class standard by redefining teaching and learning by providing equitable opportunities that educate, challenge and inspire students of all communities talents and ability level while preparing each with skills required to adapt and succeed in an ever changing world.
from the principal
"With the help of the providence, Al-Farook strives to be instrumental in the fulfillment of the prayer" Oh God give me knowledge" that thousands beseech. We ensure to bring up each and every child as promising citizens with desired values,positive attitudes and above all moral principles.By assessing the potential of the child, Al-Farook tries to nurture life skills of all types which require maximum use of both parts of the brain."
Registration Details
(i) Name of trust : AL-FAROOK RES.SCHOOL TRUST
(ii) Period up to which registration of Trust /Society is valid : yes

NOC
(i) NOC No. : 50090/N3/93/GEdN
(ii) NOC issuing date : 11.10.1993 V

Affiliation
(i)Status of affiliation : Permanent
(ii)Affiliation No : 930137
(iii)Affiliation the board since : CBSE 2015
(iv)Extension of affiliation : 2015