curricular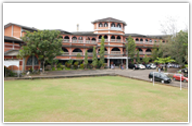 The school follows the curriculum of the Central Board of Secondary Education New Delhi The students are being prepared for both All India Secondary School Examinations and for All India Senior School Certificate Examinations of the Board. The Board Examinations are held on completion of the course in class X and Xll.

COURSES OFFERED
1, Kindergarten level : LKG to UKG
2, Primary : I to V
3, Secondary level : VI to X
4, Senior Secondary level : XI to XII Science Stream : XI to XII Commerce Stream
EXAMINATIONS
CONTINUOUS AND COMPREHENSIVE EVALUATION (CCE)
Continuous and Comprehensive Evaluation (CCE) refers to a system of a school based evaluation of students. There are two semesters in an academic session, the first semester is from June to September and Second semester is from October to March. Each semester has two Formative Assessments and one Summative Assessment. Assessments are indicated in grades.
Formative Assessment is the assessment of students carried out during a course of instruction.
Summative Assessment is assessment of performance done frequently at the end of a semester.
SECONDARY AND SENIOR SECONDARY
There will be SSE /AISSE for class X and ALL INDIA SENIOR SECONDARY CERTIFICATE EXAMINATION (AISSCE) for class XII respectively.
SUBJECTS & PATTERNS
1.Physics , Chemistry,Biology, Maths and English
2.Physics, chemistry, Maths, Computer Science and English
3.Business Studies, Accountancy, Economics, Computer Science and English
4.Business Studies, Accountancy , Economics, Mathematics and English
PROMOTION
Promotion to higher classes will be decided purely on the basis of student's performance in the scholastics and co- scholastic areas. Students who secure D grade will be promoted
1 Term- FA 1 (10%)+ FA2 (10%) + SA1 (20%) = 40%
11 Term - FA3 (10%) + FA4 (10%) + SA2 (40%) = 60%
They should also complete 75% attendance in the academic year.

WORKING DAYS & HOURS
Classes begin from 9.30 in the morning and end at 3.30 on all days . All Sundays and second Saturdays are holidays for the school. The academic year begins from the first of June till 31st of March every year.
UNIFORM
Students shall attend the classes only in proper uniform prescribed by the school those who attend the class without proper uniform will not be allowed to attend the class.
ACADEMIC CALENDAR
Academic session period : from- 01.06.2013 to 31.03.2014
Vacation period : from- 1st APRIL to 31st MAY
Admission period : from- 15th APRIL to 15thMAY
School Fees Term Wise 2013-14
Class
1st Term
June-Aug
2nd Term
Sep-Dec
3rd Term
Jan-March
Total(One Year)
LKG
6,600
2,700
2,700
12,000
UKG
3,250
3,300
3,250
9,800
I-II
3,750
3,500
3,450
10,700
III-IV
3,750
3,600
3,570
10,920
V-VI
4,050
3,800
3,770
11,620
VII
4,350
3,700
3,670
11,720
VIII-X
4,350
4,250
4,240
12,840